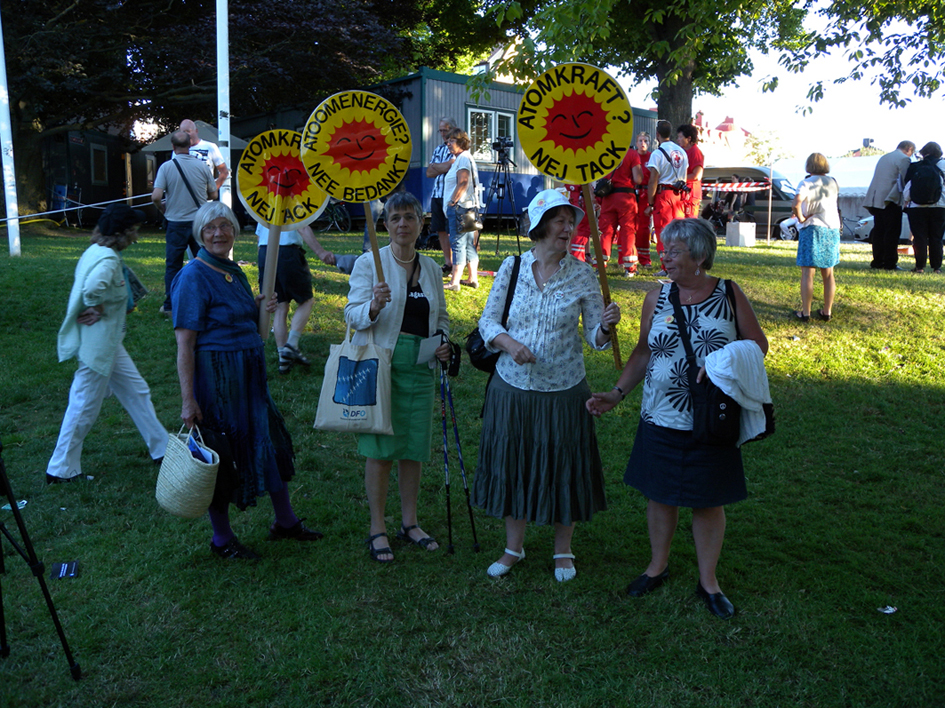 As a part of the project We Are All Cultural Workers, see progamme below, we presented a short film compiled by raw edited material from The Almedalen Week in Visby, 2010.
The film puts a focus on The Almedalen week as a spectacle. Which bodies of thoughts are to be found under the many colored T-shirts circulating in the historic city center of Visby?
"In Visby 2010, during the so-called political week in Almedalen, lobbyists, politicians, marketers, journalists and salesmen gather. The alleys of this old medieval city are transformed into a market that is lined with vendors of lifestyles, electricity producers, forest owners, animal rights activists, the foot soldiers of youth organizations, mercenary flyer distributers in bright-ly colored t-shirts, "astroturfs." Visitors who try to get from point A to point B are subjected to shouts and outstretched hands. It is as though everyone WANTS something from you: your attention, your voice, your money. A group of artists gather at an art institution to participate, observe, watch. Where do politics happen? Some of the artists make a banner that is carried through the crowd and rolled out in front of the TV cameras during a live broadcast, after which it is taped to a wall: 'We are all Greek workers!'" akcg, agorafobi/agorafobia/agoraphobia p 63, grus 2011
"A multipart event in connection with the 2010 Swedish election with presentations, film screenings and discussions at Konsthall C. Also join us for an informal gathering after the programme while we watch the election results.
PROGRAMME
SUNDAY 19.9 AT 3 – 7PM
3:00 pm Kim Einarsson, Konsthall C and Judith Schwarzbart, BAC introduce the project, the collaboration and the institutional involvement
3:20 pm Presentation of a raw edit of the filmed material from the Almedalen week by Anna Kindgren and Carina Gunnars.
4:20 pm Just ask! Come on Lena, what else would we do?
Curious, unconditional, confrontational, naive and head on as political strategies. A conversation with MFK on the films I am Curious Yellow and I am Curious Blue.
5:20 pm The extra parliamentary. The political in public space. This presentation by lya Lipkin and Joen P. Vendel brings a historical perspective to a discussion of the contemporary scene of politics. Includes an excerpt from a documentary about the German election 1932. (This session will be held in English)
6.20pm Löntagarfonderna, Reanimation of the strive for economic democracy in eighties Sweden. Henrik Andersson presents a work he did in public space.
6:40pm Where to go from here? A final discussion
7:30 until late: Valvaka – Election watch – SVT
Food and drinks will be available.
This programme is the culmination of a number of activities, residencies, seminars and a workshop during and following the Almedalen Week in Visby july 2010.
The working group includes: Petra Bauer, Kim Einarsson, Carina Gunnars, Anna Kindgren, Ilya Lipkin, Malmö Fria Kvinnouniversitet (Lisa Nyberg & Johanna Gustavsson), Michele Masucci, Lisa Rosendahl, Judith Schwarzbart, Fredrik Svensk, Joen P. Vendel, and Sofia Wiberg." www.konsthallc.se