Sáni friddja sadji – The tribune of free speech at The Market of Jokkmokk.
This year it is 250 years ago since the freedom of press enactment was issued in Sweden. In connection with the protests in Gállok the question on whom may express what was raised on several levels. The artist Katarina Pirak Sikku reacted to that the municipality of Jokkmokk had comments on how the protests was to be carried out. She believes that it is important to pay attention to free speech and that is the background to the initiative Sani friddja sadji that the artists Katarina Pirak Sikku and akcg (anna kindgren and carina gunnars) stands behind. During the Saturday market, a rostrum will be mounted at Lars Pirak's Square at 1 pm and anyone who wants can take place and talk about what they want.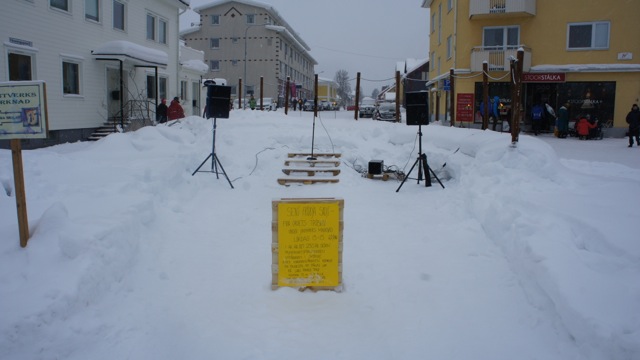 Sáni friddja sadji – Fria ordets tribun under Jokkmokks marknad
I år är det 250 år sedan tryckfrihetsförordningen utfärdades i Sverige. I samband med protesterna i Gállok lyftes frågan på flera plan om vem som får tycka vad. Konstnären Katarina Pirak Sikku reagerade på att Jokkmokks kommun hade synpunkter på hur man fick demonstrera. Hon menar att det är viktigt att uppmärksamma det fria ordet och det är bakgrunden till initiativet Sáni friddja sadji som konstnärerna Katarina Pirak Sikku och akcg(anna kindgren och carina gunnars) står bakom. Under marknadslördagen kommer en talarstol att ställas upp på Lars Piraks torg klockan 13.00 och där får vem som vill ta plats och tala om vad de vill.